Choosing The Right Materials for Commercial Interiors in the Midwest
PUBLISHED:
August 14, 2023
CATEGORY:
Industry Insight
The Midwest will always have a special place in America's heart. With a rich landscape and a unique climate, the Midwest has a distinct style that's come about from practicality and timeless American design. It combines many aspects to ensure longevity, functionality and a unique charm that represents the values of all those who live here. Now, with access to a limitless range of stylistic choices to pick from, making informed decisions is crucial to designing and building inviting commercial spaces customers and staff want to be in. Learn how to choose the right materials for commercial interiors in the Midwest as we discuss the most important factors you should consider.
Braving the Midwest Seasons: Top Material Choices
It's no secret that temperatures in the Midwest can change drastically. With regular fluctuations expected throughout all four seasons, durability and overall performance are two of the most important things when considering commercial interiors – and casework in particular. It is very possible to have a great looking product that offers both durability and high performance, and architects, project managers and general contractors should prioritize these features before anything else. Materials must be able to handle both the height of summer's heat and the lows of winter's frost without requiring too much maintenance. Strong materials like plywood, hardwoods, MDF, thermofoil and plastic laminate are excellent options to consider. Along with being resilient, these materials require minimal maintenance which makes them ideal choices for busy commercial interiors.
In addition to temperature fluctuations, the Midwest is no stranger to high humidity levels, especially in the summer months. That's why vinyl wall coverings, products like Formica HardStop, laminate flooring and other water-resistant materials are ideal for this type of environment. Materials like these will prevent potential problems caused by high humidity levels and ultimately reduce maintenance costs.
Durability, cost-effectiveness and practicality in the Midwestern climate are the most important elements to consider when selecting materials for commercial interiors. Materials like plywood, hardwoods, Medium-Density Fibreboard, thermofoil and plastic laminate are time-tested materials that have been used to great effect in a wide range of commercial interiors.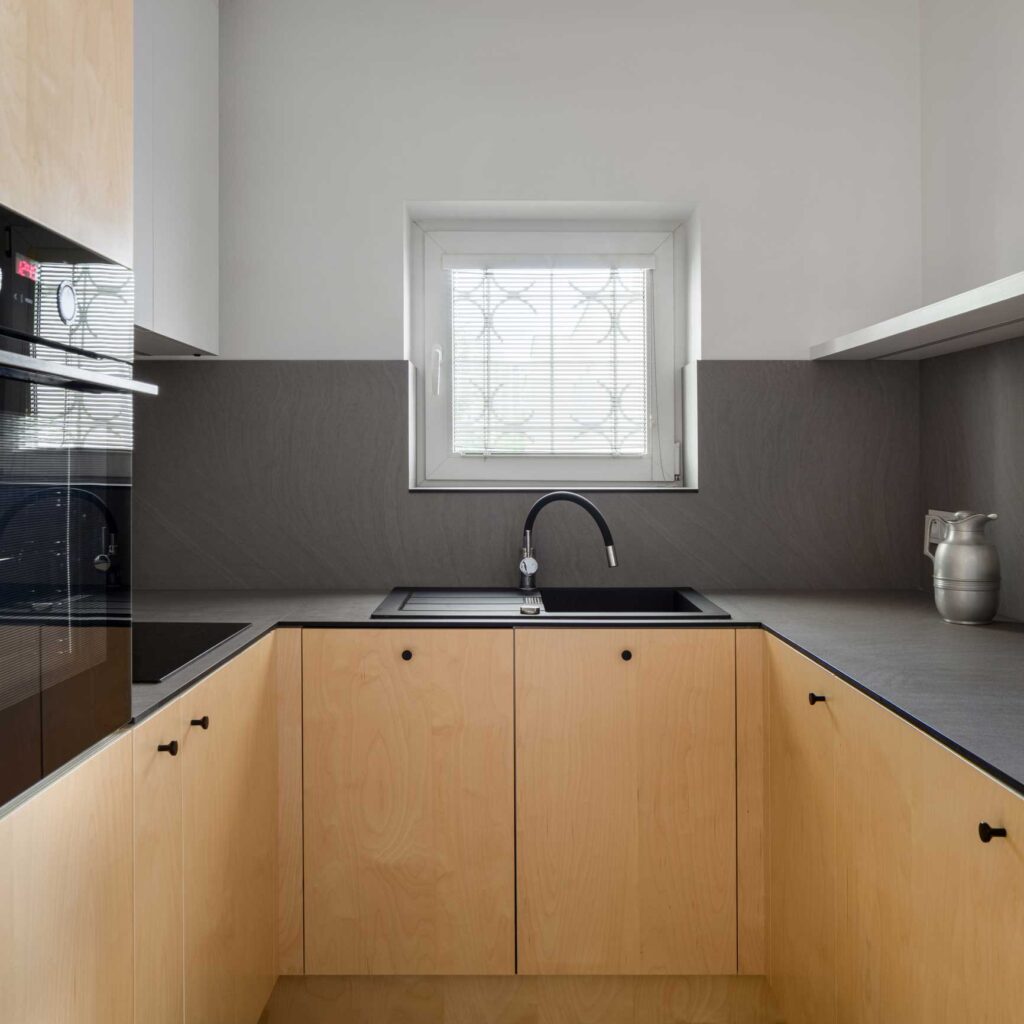 Plywood & Hardwoods
Plywood is a reliable choice for commercial casework in our region due to its strength and cost-effectiveness. Plywood can withstand high humidity levels, temperature fluctuations and high usage at a lower price than other solid wood alternatives. Though plywood can be made from both soft and hardwood, hardwood is the better choice for use in the Midwest.
MDF, Thermofoil & Plastic Laminate
Medium-Density Fibreboard, or MDF, is an engineered wood made from wood fibers and resin. It's a smooth, uniform and versatile material that's very easy to work with — and a common choice for cabinetry and panels. Though it's not as moisture-resistant as plywood, it has many applications when it comes to commercial interiors.
Thermofoil is a vinyl laminate that is typically applied to MDF or engineered wood. With a low price point and high flexibility, Thermofoil creates a smooth and seamless surface in a very cost-effective way. It's a good choice for those who want the look and strength of hardwood without the premium cost.
Plastic laminate is an incredibly strong, durable material that is ideal for use in commercial interiors throughout the Midwest. Plastic laminate is inexpensive, easy to maintain and can last for decades if properly maintained. As an engineered material, plastic laminate can be finished in a variety of different colors to match the style of any commercial interior.
Casework? Job Done.
HWI Custom Interiors has been building high-quality commercial casework for architects, general contractors and project managers throughout the Midwestern United States for 40 years. Contact us today to learn more about our services and products, or get expert advice on your next project.