How HWI Used Top Office and Retail 2023 Interior Trends in Design Projects
PUBLISHED:
October 18, 2023
After 40 years in business, we know the importance of staying on top of design trends. We have been trusted for decades to provide top-quality casework and cabinetry that meets the ever-changing needs of our clients. From the laminate cabinets of the 1980s to the dark cherry wood of the 2000s, we have stayed ahead of interior design trends year after year.
We remain at the forefront by tracking design trends of the cabinets we produce and fostering relationships with designers.
Here are the casework and cabinetry trends of 2023 and how we've incorporated them into our work.
Design Trends of 2023
Natural Materials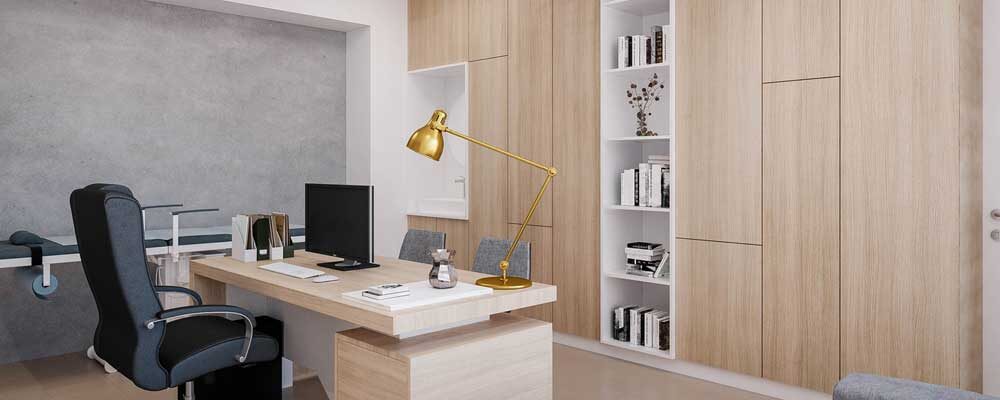 Modern office and retail design trends have never been more inviting. 2023 has seen a huge increase in the use of natural materials within interiors. Wood, stone and various sustainable materials create a warm and inviting atmosphere. This encourages employees to feel more comfortable in their offices and entices customers to stay a little longer in retail spaces.
Connections to the Outdoors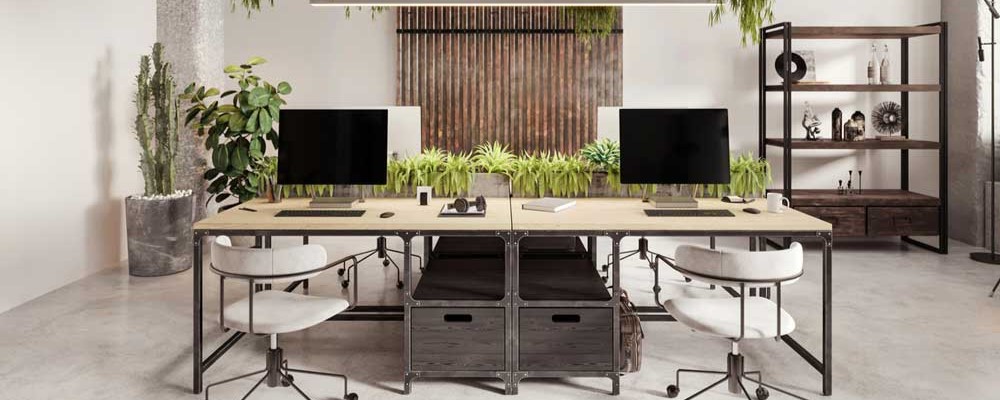 Fostering a sense of harmony with nature is important in an increasingly online world. Glass cabinet doors and outdoor-inspired elements like indoor plants work to blur the lines between indoor and outdoor spaces. This creates a feeling of calm within spaces, fostered by a sense of harmony with nature.
Vibrant Color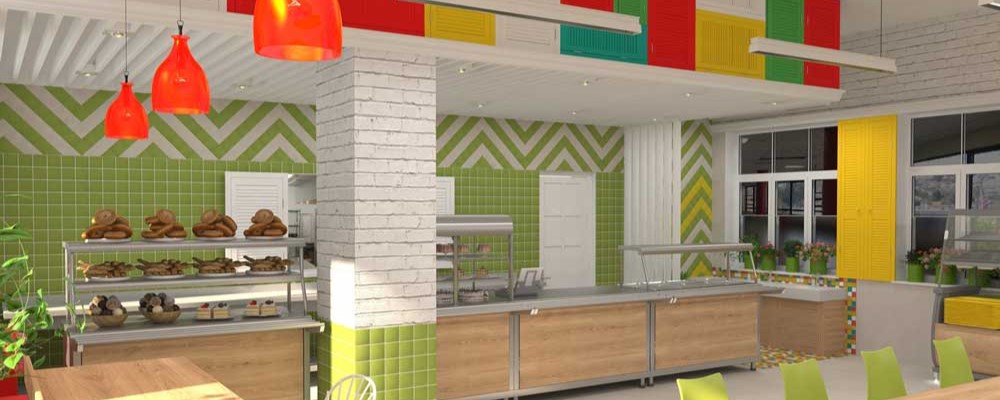 Vibrant and bold colors are making a comeback in 2023 office design trends. From jewel tones to pastel shades, using color strategically on walls, cabinets, and decor items can add personality and energy to work and retail spaces.
Layers of Texture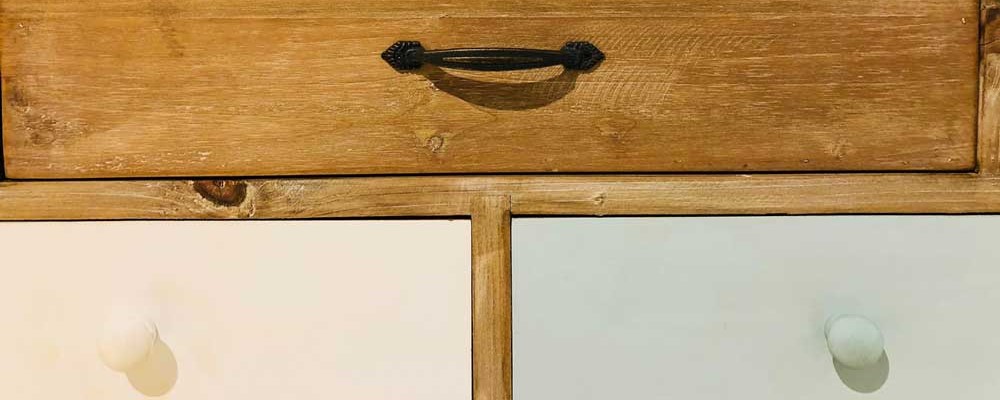 Mixing various textures creates a visually exciting space. Rough-hewn wood with metallic pulls or glass windows in wooden cabinet doors adds a tactical richness and cozy ambience to a room.
Warm And Soft Kitchens
In 2023, work Kitchens are becoming cozier and more welcoming with the use of warm color palettes, soft lighting, and comfortable seating arrangements. The shift from utilitarian breakrooms encourages socialization and relaxation even in the workplace.
HWI's approach: How We Identify Interior Design Trends
After 40 years, we've established routines and habits to ensure we are always up to date on industry trends.
We are able to quickly respond to trends thanks to our lean-batch manufacturing process. This flexible process means we can cater to a diverse range of needs and requirements quickly and efficiently.
By attending trade shows and exhibitions we gain insights into emerging trends in materials, colors, and design concepts. Monitoring publications and design blogs allows us to identify which design elements are gaining popularity.
Our close relationships with designers and architects are also beneficial. By engaging in collaborative discussions and seeking input from these professionals, we can understand their clients' preferences and upcoming trends in real time.
HWI Projects: 2023 Trends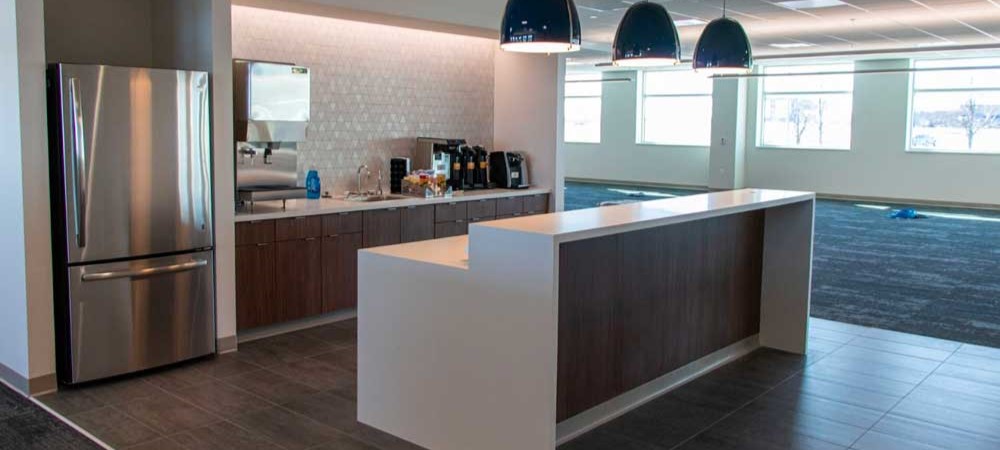 Cozy and soft kitchens: Securities America
We worked with Securities America to create a warm and inviting breakout area for their staff and visitors. By using Formica Walnut Heights (7965K-12), we created a soft and warm environment in line with office design trends of 2023. This encourages staff to take a moment and relax. The white solid surface countertop also adds a soothing touch to the space.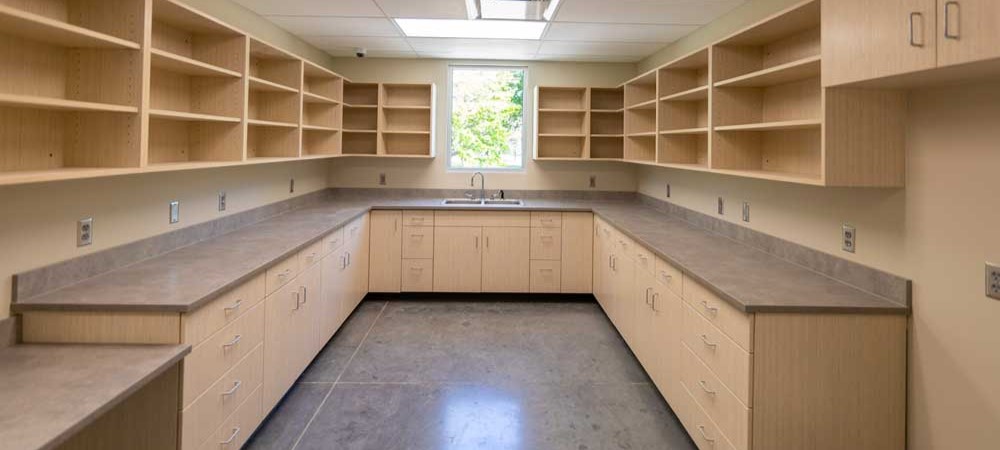 Natural Materials: Valley View Vet Clinic
Valley View Vet Clinic wanted to create a natural space that matched their ethos of helping animals and wildlife. We used Wilsonart Asian Sand (7952K-18) to create cabinetry that was both functional and brought the outdoors inside. The use of Wilsonart Pearl Soapstone (4886-38) reminds staff and visitors of the outdoors.
Vibrant Color: Childcare facility
If there was one place that had to be colorful, it was the Council Bluffs Early Learning Center. Children's lockers with Wilsonart colors Quince, Papaya, Blueberry Taffy, and Kale Leaf, in block colors highlight the playfulness of the facility. The playful theme continues throughout the facility with both natural wood cabinets and colorful doors.
For four generations, our industry expertise has made us a trusted partner for cabinetry and casework. By always remaining at the forefront of emerging trends, we are able to create bespoke designs and finishes that cater to a diverse range of customer needs.
If you would like to work together to create casework and cabinetry that meets your specific needs, get in touch today.
We promise consistent on-time delivery, industry-leading customer service and expert advice along every step of the journey.